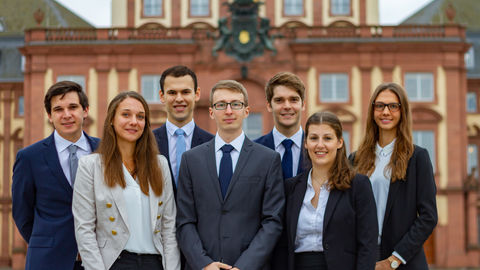 Every year, the Chair of Private Law, German and European Business Law and Labor Law held by Professor Kainer is on the lookout for motivated students with a good command of English or French to join the Mannheim European Law Moot Court team in the fall semester!
Represent your university in one of the most prestigious and biggest international Moot Courts. The competition simulates a trial before the European Court of Justice, including all important steps from preparing the written pleadings to holding the oral arguments. It takes place from September to March or April and is held in English and French. The Regional Finals with oral proceedings take place every year in four different cities abroad (e.g., Istanbul, Dublin, and New York). During the finals, the winner teams from the Regional Finals plead before actual judges and advocates general of the European Court of Justice in Luxembourg.
The European Law Moot (ELMC) team receives comprehensive support and coaching by the chair as follows:
Teaching of advanced knowledge in the field of European law
Intensive pleading training and rhetorical coaching
Mock trials against other European teams
Collaboration with large international law firms
If you want to follow the activities of this year's team for the fall/winter term 2018/19, you can follow the team on Facebook or on Instagram (@elmcmannheim1819) and stay up to date!
Please visit the website of the chair of Professor Kainer for up-to-date information on information events.